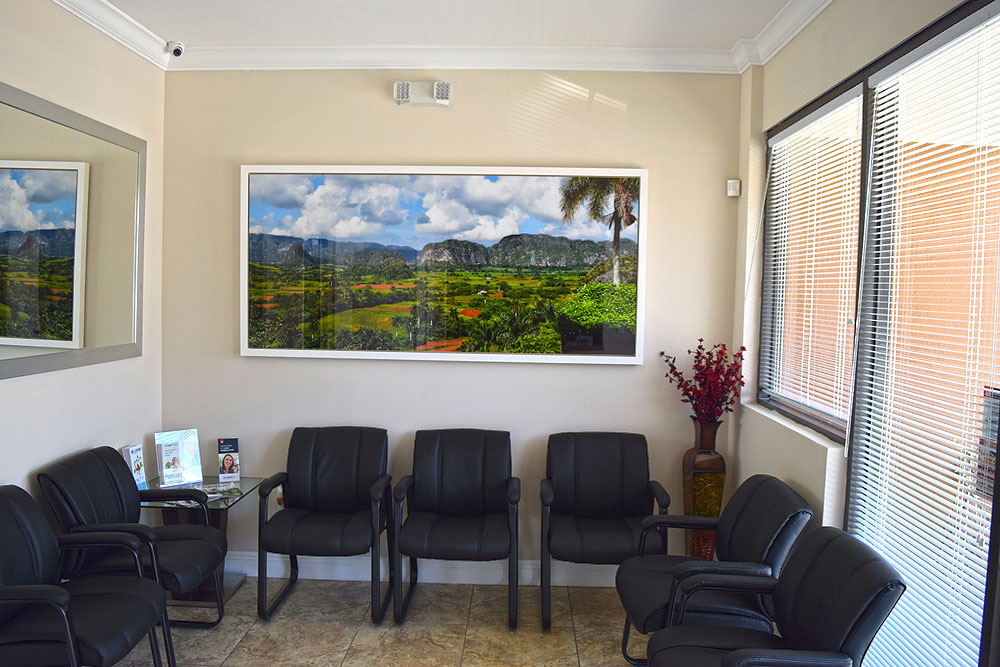 At Dental & Implant Center we offer our patients comprehensive dental treatment. While featuring a traditional dental office design, for providing our patients with the required a desired privacy that makes them feel home, our office also incorporates new and state of the art equipment, not forgetting the importance of being up to date with today's technological advancements.
Some of the latest devices in technology that you can find in our clinic are:
• Nomad Pro 2: a handheld x-ray machine which provides the least amount of radiation for the operator and facilitates the whole process of taking x-rays making it more comfortable for the patient, which now does not have to accommodate his/her head to a wall mounted x-ray arm reach.
• OP300 Maxio: OP300 combines an advanced panoramic imaging system with either cephalometric or cone beam 3D or a combination of both, giving you a truly adaptable platform for different imaging applications and dental specialties.
• IntraSpin System: A centrifuge specifically designed for the fabrication of L-PRF membranes (which contain the patient's own platelets and Leukocytes) used for bone and tissue regeneration in dental extraction sites, in order of taking advantage of  the body's own healing pathways at an accelerated rate, rendering the post-operatory period quicker and more effective. These membranes are mostly used after extractions when the patient is planning on having a future implant placed and also for conservation of the natural anatomy of the area in aesthetics zones.
Our goal is obtaining patient satisfaction and wellbeing by providing the best treatment options available and incorporating technology and sensitive care to our patients. We want to make them feel comfortable in our office and we want them to leave pleased with the treatment received.